Top 8 Ethereum Wallets for Buying Real Estate in 2021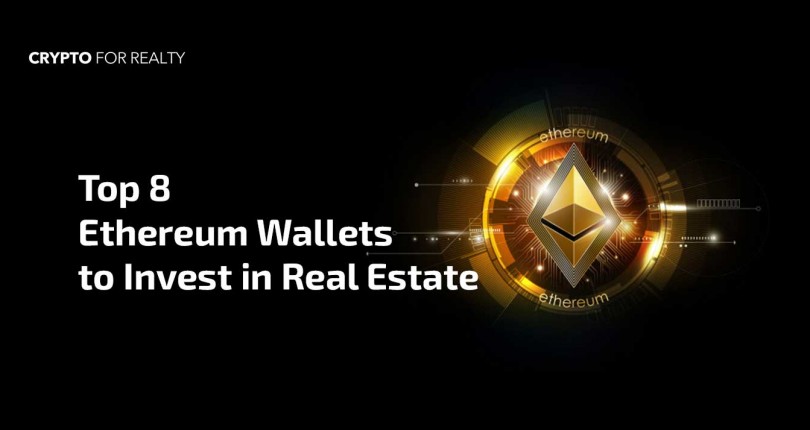 CryptoForRealty is constantly finding ways to bring easier, less complex and comprehensive Crypto guides for its esteemed users and clients so that they can understand the crypto world with a strong grasp. The previous blog discussed the potential pros and cons of Ethereum and its probability of huge investments yields in terms of using it in buying and selling real estate. Therefore, today's blog will highlight top 8 wallets of Ethereum and their convenience factor in buying real estate.
As we all know that Ethereum is the second largest crypto currency after the Great Bitcoin. Its continuous growth and fame has attracted tons of investors from around the world, thus, creating a surge in demand for Ethereum wallets.
Top 8 Ethereum Wallets for Buying Real Estate in 2021
1. Ledger Nano X
Ledger Nano X is perhaps Ledger Corporation's most useful product as it is used for Bitcoin wallet services as well. Ledger Nano X is the most modern hardware wallet in the crypto industry and it supports Ethereum and all its tokens pertaining to Ethereum chain. It also supports a multitude of other crypto currencies therefore, not restricting you to use only one. It comes with a one-time price of $119 and all the future updates in the firmware will be free for you.
Currently, its integration is available through MyEtherWallet that makes the coin management easier and convenient.
2. Ledger Nano S
The predecessor of Ledger Nano X, this bonafide hardware wallet also dispenses its services for Bitcoins. Priced at $59, Ledger Nano S stores the Ethereum coins offline and uses a private key for the transactions. This private key is stored on the device. This hardware wallet also comes equipped with an LED screen that enables you to take control of your transactions. Its permanent users also report that it can even be used on a hacked computer because of its strong and robust security. Therefore, Ledger Nano S stands as a strong entrant in the list of top Ethereum wallets for buying real estate despite for being a year older and purely physical in nature.
3. Trezor
Trezor is another addition to the hardware wallets family and was one of the first wallets for Bitcoin. At present, Trezor is being used for Ethereum as well and the software can be stored in it through MyEtherWallet web interface. The device's design resembles a USB and is very light and portable. Furthermore, it stores Ethereum coins on an electronic chip which can be activated once you log in with your password. It is currently selling at a price of $99 with no hidden or extra charges. Its portability and security which comes with storing crypto assets offline is what makes it a strong entrant in the list of top Ethereum wallets for buying Dubai property in 2021.
4. Atomic Wallet
Atomic wallet is a decentralized cryptocurrency wallet that supports more than 500 cryptocurrencies and tokens, thereby, providing safety, convenience and simplicity in usage. It allows the users to buy cryptocurrencies through their Bank cards. Its interface is fit to be accessed and used in a mobile phone or a desktop.
The wallet provides you with the full access to your funds and tokens by encrypting your private keys on your device. You have to input your contact address and get your custom coins in your atomic wallet as a result. Atomic wallet's usage is similar to mobile banking. The only difference is that it is decentralized and does not allow the interference of any third party in its operations and transactional activities.
5. Guarda
Guard is another addition to decentralized cryptocurrency wallets and is a favorite among many users and investors of Ethereum. This is because while using Guarda, it is the user who has full control of the private key. No software or even the blockchain has its access unless the user gives it for any transactional activity. In this way, the user has the complete control to his Ethereum coins. Furthermore, Guarda requires no personal information for its operational framework and that is what makes it a powerful option in the list of top 8 ethereum wallets for buying real estate in 2021.
6. Argent
Argent is considered as one of the most modern mobile wallets for Ethereum. Unlike Guarda, this wallet does not let you store the private key. In fact it has compound finance integration in its software. For those who don't know, compound finance is an algorithmically operated, decentralized interest rate protocol for ending and borrowing cryptocurrencies. Compound finance allows the users to lend and borrow crypto assets that are based on interest rates as a result of real-time supply and demand. This unique feature, along with its easy interface is best for beginners in Ethereum investors.
7. Exodus
Exodus is the world's first desktop wallet which supports a multitude of crypto currencies. Furthermore, it is free to use and it has incorporated the famous Shapeshift in its software for the purpose of exchanging cryptocurrencies. The private keys are always stored in the software even if the internet connection is lost at times. Its latest update comes up with more built-in exchanges like Shapeshift which allows faster and more reliable liquidity sourcing. The biggest advantage of using Exodus for Ethereum is that it can also send and receive funds from Smart Contracts, therefore, making it the right wallet for buying real estate in 2021.
8. MetaMask
MetaMask is the last entrant in the list of top 8 Ethereum wallets for purchasing real estate in 2021. What makes it different and unique from the rest of the wallets is its browser like interface and built. MetaMask operates like Google and allows you to store and send Ethereum coins and tokens, along with the access to decentralized apps. The storage of your private keys, which are also your passwords, is done on your device/machine which you can use and export at any time.

Why these wallets are best when it comes to buy real estate in 2021?
As we all know, a purchase as big and grand as a property has to come with a guarantee of secure payment processes, transparent operations and protection against frauds. The world of cryptocurrencies also has threats like malware, hacks, frauds, system collapsing and etc. Therefore, buying real estate with crypto curreny must be done with secure and safe protocols that ensure smooth transactional process and your assets' security. The above mentioned Ethereum wallets are fully equipped in providing you the best yet safest way of securing your property deal because all these wallets have every requirement that fulfills the criteria of being safe and secure. These safety factors are as follows:
Private keys
Easy Usage and Interactive UI design
Backup and Security
Compatibility and
Active development community.
Since these wallets have all these characteristics/factors, buying real estate in 2021 with Ethereum will not be a problem for you.