Which are the Best Areas to Invest in Off-plan Properties in Dubai?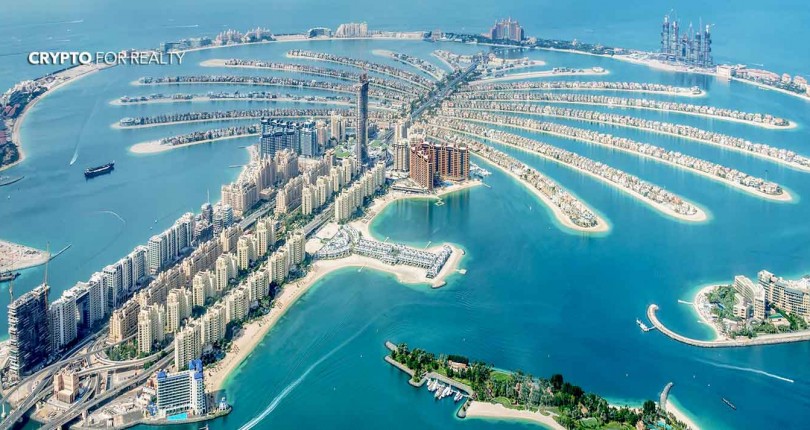 Off-plan properties in Dubai come with their own potential advantages in terms of investing in Dubai's real estate. Off-plan property purchase is a great way to diversify your investment portfolio and increase your assets. Dubai is universally known for its high end residential projects and value-boosting real estate. Naturally, it becomes tough to select from such a wide array of options which offer the best of everything. Therefore, CryptoForRealty proudly brings you its thoughtfully curated list of the best areas to invest in off-plan properties in Dubai.
Each locality in this list is unique in terms of what it has to offer and its specifications.
The best areas to Invest in off-plan properties in Dubai-7 Flourishing Neighborhoods
Jumeirah Village Circle
Jumeirah Village Circle is the upcoming posh neighborhood. Nestled perfectly between the sea line and the city, it is predicted to become one of the most sought-after destinations of the city. Jumeirah Village Circle comes with world class amenities for its residents. The beautiful yet innovative designs of residential complexes present the best model of sustainability and luxury.
The Circle mall, is poised to be the world class retail center having everything from international brands to routinely necessities. Jumeirah Village Circle is a man-made paradise in this booming city of UAE and therefore, it stands as the best area for investing in off-plan properties in Dubai. Jumeirah Village Circle comprises of luxurious studio, 1,2,3 and 4 bedroom apartments which are available in off-plan units. Investors and buyers alike can view these off-plan units on our website and choose what fits them best.
Dubailand
Conceptualized as a city within a city, Dubailand's vast expanse is the home to beautiful residential complexes like apartments, villas and commercial spaces. It comes equipped with all the modern and public amenities like schools and entertainment hubs. Furthermore, Dubailand comprises of six communities within itself that host premium luxury, recreational and leisure spots.
Dubailand bags a second position in the list of best areas to invest in off-plan properties in Dubai by presenting its Rukan community for off-plan investments. The housing units in Rukan are promised to give you the ultimate opulent lifestyle along with the perks of premium location and modern urban amenities.
AKOYA OXYEGEN
AKOYA OXYGEN is the brainchild of DAMAC properties and stands an important entrant in the list of the best areas to invest in off-plan properties. AKOYA's effort to keep its community green and sustainable can be seen its model. The villas in this community are built with energy-efficient materials that are bound to reduce the carbon element from our lives. Furthermore, its thoughtfully designed landscaped parks, pathways for bicyclers and usage of sustainable material in its infrastructure are what make it different and unique.
Therefore, the villas in AKOYA OXYGEN come up practical off-plans. The off-plan units host stunning three and six bedroom villas. The prospective investor or buyer can use all the benefits of flexible payment plans, affordable prices and an upgraded lifestyle from this Green-community.
Head over to our website and start your next fruitful investment in the best of off-plan properties in Dubai.
Dubai South
Dubai South also stands a strong contender in the list of best areas to invest in off-plan properties in Dubai. Dubai South is a home to six residential districts and is one of the most potential off-plan projects in Dubai's real estate market. Dubai South was also the coveted venue for Dubai Expo and that raises its value altogether to another level.
Its premium location and beautiful off-plan units are sure to lure all the potential investors from around the world. This outstretched community of beautiful complexes and world class amenities is developed by EMAAR SOUTH. So naturally, Dubai South has one of the best apartments, villas and town houses for sale in Dubai. Also, the off-plan units of these apartments, villas and townhouses give a clear image of the upcoming project and enlist all its specifications. It also comes with flexible payment options and is great if you are looking for a cheap yet well-integrated living in Dubai.
Downtown Dubai
Downtown Dubai is another proud creation by EMAAR developments and it offers most beautiful apartments with the spectacular views of Burj khalifa and Dubai Fountains. Therefore, the value of the properties in Downtown Dubai bags an altogether different position on a global scale.
If you are looking to buy a property in Dubai that comes with a promise of luxurious lifestyle, stellar location and is recognizable on an international level then Downtown Dubai is the best option for you. Downtown Dubai's off-plan units come in the variations of studio to 5 bedroom luxury penthouses. CryptoForRealty real estate agency has some best off-plan units of Downtown Dubai's properties which will cater to all your individualistic needs. Furthermore, the payment plan is flexible and there is a lot of convenience for the prospective clients so that they can close a deal in accordance with their desires and needs.
Business Bay
Business Bay poises as the best commercial hub of the city. Its status is elevated even more when sky rise towers along with landscaped parks and world class amenities are seen in the development. This booming community is the home to top real estate agents and business giants. It is adept at providing quality office and home spaces to its residents.  The area currently offering off-plan units in this community is Zada Residence.
Arabian business listed Zada Residence apartments as one of the potential places for investing In off-plan property in Dubai.
More information and details of the units can be found on our website.
Dubai Hills Estate
Yet another exciting entrant for investing in off-plan properties in Dubai, Dubai Hills Estate is an exciting booming community by EMAAR developments. Its central location along with perks like a spectacular golf course and sustainable built have lured a huge number of investors from around the world.
The best area to invest in off-plan property in Dubai Hills Estate is Golf place villa community. Its off-plan units range from 4-7 bedrooms and come with a variety of payment options. The return on investment is huge with high rental yields.
Invest your Bitcoin Cryptocurrency in Dubai Real Estate
At CryptoForRealty, we make client satisfaction our ultimate mission. Our team is ready to help them and guide them at every stage in this regard. We work tirelessly to deliver the best experience in property dealing and property management in Dubai so this step is just one of the many efforts we undertake to make our client's tasks easy.
Invest in real estate with cryptocurrency. You can buy Dubai property with Bitcoin, Ethereum, Xrp and other cryptocurrency. Our company consists of professionals with over 30 years of experience. We provide our clients with a full range of quality services including property management, asset management, investment consulting, and housing sale or lease. We cover residential, commercial, and leasing assets. Let's maximize your return on investment together!
Get in touch with our expert team of consultant at CryptoForRealty and let them guide you seamlessly and find you your right fit in terms of the best areas for investing in off-plan properties in Dubai.