The Impact of Crypto Currency on Commercial Real Estate? The Future of Crypto and Dubai's Outlook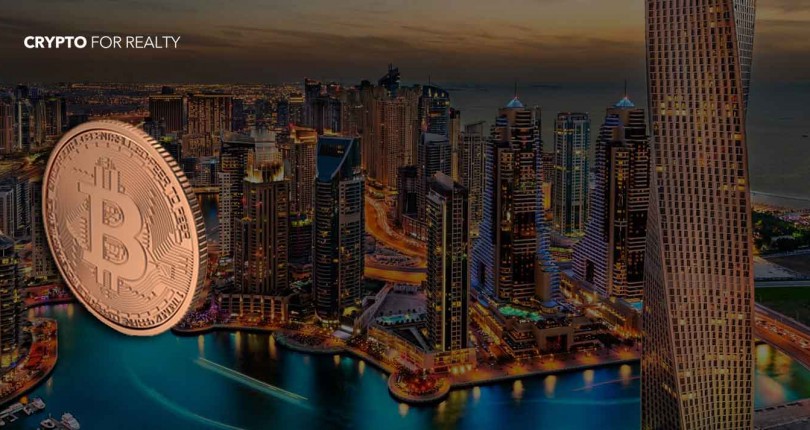 Buying real estate with crypto currency is always beneficial and a fast-paced process when it comes to comparing it with traditional modes of buying real estate and settlements. Ten years ago, bitcoins were used for a pizza purchase. But today, crypto currencies have been incorporated in almost every aspect of our lives. Therefore, buying and selling real estate with bitcoin or any other digital currency is not a surprise anymore. In fact, it is easier, convenient, less time-consuming and transparent in its working.
Commercial real estate is a vital component of the real estate domain and it has also introduced and incorporated crypto currency in its operational framework, payments and settlements. In case of Dubai's real estate, the commercial sprawl and developments just seem to be growing and exceeding with each passing day. Furthermore, Dubai's real estate recognizes the importance of crypto currency as one vital indicator of the world's shift to the Digital. It accepts bitcoins or any other crypto currency for property transactions. Therefore, commercial real estate can also be bought with bitcoins or any other crypto currency with a promise of transparency and high return on investment.
Crypto analysts state that the overall impact of crypto currency on commercial real estate is positive and today, this blog will discuss those positive postulates.
The Impact of Crypto Currency on Commercial Real Estate: 5 powerful indicators
1- Upgraded property listing procedure
The traditional listing service in terms of property is done through a system of multiple listing services. These listing services are used to share property's information and other important details. The biggest drawback of this service is that it is subscription based. Furthermore, it has so many middle men and third parties like real estate agents and brokers, that the information dispelled to the buyer/seller is not authentic or most probably fragmented. But with crypto currency, there is a different story.
Blockchain is the main operational manager in this regard and it has introduced a single decentralized system where multiple listing services can be integrated in to it, thereby, providing transparent and authentic property information. Just like crypto payments are Okayed by blockchain, the multiple listing service is also incorporated in to blockchain, eradicating every possibility of incomplete information. The blockchain MLS system also provides complete info on ownership history. Therefore, crypto currency's impact on commercial real estate is surely positive as new and improved systems of property searching keep coming.
2- Tokenization
The blockchain has introduced new ways of investments for traders and investors alike. With crypto currency, you can buy tokens of bitcoins which are backed by some heavy amount. For example, today investors and traders deal in crypto gold token which are backed by physical gold chunks. This allows commercial real estate to be made into tokens so that they can be traded easily.
So after gold and stocks, there is a new trade of commercial real estate and that is all due to crypto currency. Therefore, investors, buyers and traders today can use crypto tokens of commercial real estate for the purpose of trading and other market dealings.
3- Fast-paced transactions
Gone are the days when property transactions took time and delay to process. With crypto currency in commercial real estate, the transactions are faster, cheaper and without any delays and here is how:
The blockchain system includes every information of the buyer and seller and is not governed by any third party or government institutions. Once the payment is made, it confirms and verifies it through its system and transfers the amount to the desired account. This system is also cheaper as the additional costs like property taxes, loan fees and registration costs come on a minimal price or are not included at all. Therefore, buying commercial real estate with crypto currency in Dubai and anywhere in the world is easier, convenient and cost-effective.
4- Erase property and cash-flow management
Another positive impact of crypto currency on commercial real estate is that it eliminates cash-flow management. Since the block chain is decentralized, it generates its own digital framework where the transactions are carried and the amount is transferred instantly from one end to the other. The traditional property transactions require tireless tasks of maintaining cash flow and other property finances. With crypto currency, it is not an issue to worry about as the block chain system takes care of everything, delivering with instant settlements and ownership.
5- Smarter decision making
Buying or investing in commercial real estate is a tough decision to consider because it involves so many complex tasks. Crypto currency's biggest advantage is that the buyer and seller become direct in property dealing, involving no third party. This gives the full authority to the buyers/investors to analyze and study the property and make the decision accordingly. Also, tokenization helps in this regard for those investors who do not have enough funds to invest in a property. They can buy tokens and buy any property they desire. This fast-paced and result-oriented system has enabled smarter decision making among buyers and investors globally. The advent of crypto in the real estate domain is the main reason why the investment portfolios of many global investors are being diversified.
Crypto currency in Commercial Real estate in Dubai- an outlook
Dubai has seen a phenomenal boost in its property transactions by allowing crypto currency to enter its real estate market. Global investors are finding it easier and convenient to select a property and make their payments in an instant. Furthermore, the opening of free zones for expats has paved a new way for potential buyers and investors to easily buy Dubai's property with crypto currency.
Some analysts are not in the favor using crypto currency for property transactions but majority of them support this practice due to the continuous expansion and growth of Dubai's real estate market. Furthermore, they support their argument by enlisting the clauses of transparency, fast and timely procedures and instant settlements and ownerships in this regard.
Want to start your next real estate venture in Dubai? From commercial to residential, CryptoForRealty is a leading real estate agency in Dubai that dispels its expert services and guidance in all the areas ranging from property consulting to timely and instant ownership. It is okay if you are not a Crypto genius? Just have one sitting with us and you will know all that is required to buy real estate with crypto currency in Dubai.