Bitcoin Hitting up to $50,000: Another Great Reason to Invest in Real Estate with Crypto Currency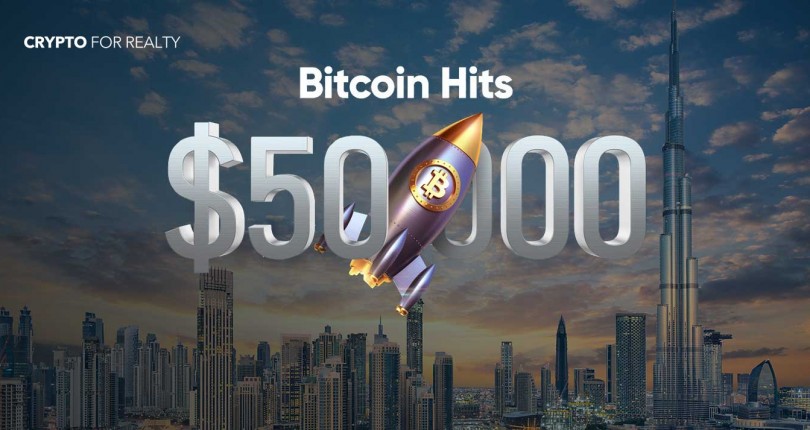 The last twenty four hours saw a record-breaking rise in bitcoin when it hit $50,000 giving it a market valuation of $930 billion at its peak. On 14th February, bitcoin touched a booming point of $49,695. On Tuesday, this crypto currency was trading at $49,032 to be precise. So in calculation, the crypto currency will hit a market of $1 trillion at about $53,650 levels.
By seeing this record-shattering trend, companies like BlackRock, BNY Mellon and Mastercard have also decided to enter the crypto world. Another great boost was from Tesla when it disclosed its 1.5billion holdings in bitcoin. That sent the prices at a roaring 18% in a day.
Financial and crypto analysts state that this decade will see a lot more of crypto currencies being incorporated in every sector of the society. With everyone accepting crypto as their "means of talking money", the real estate sector is also not behind in this race.
According to Bloomeberg analysts, these soaring trends of bitcoin will continue in 2021 as banks and governments will not take a back seat in terms of their "inflation-boosting" stimulus in the coming time. Their current policies to deal with COVID-19 has what made the demand of bitcoin high today.
Therefore, the bitcoin hitting such a huge mark has made its acceptance level rise high in the real estate domain. In case of Dubai's real estate market, many crypto investors are inclined towards buying a property in Dubai. This is because its value is sure to increase with time and given the latest trends in crypto currencies, the combination provides huge benefits.
Buying real estate with bitcoin is for sure a smart move which multitude of investors are making today. Our advice to millionaires of today is to derive some profit out of investing in real estate with bitcoin. But before delving down in to why's of it, let us highlight the difference of crypto currencies with traditional currencies.
Difference of Crypto currency with Traditional currency
The major difference between crypto currency and traditional currency is that crypto currency is decentralized. This means that no institution- government or financial, controls the crypto network. Other difference is that crypto currency operates in a fully digital world, i.e., it is electronic money. So they are bought and traded digitally.
Also, there is a lot of revenue and profit to be generated out of bitcoin's investment in Real estate. We at CryptoForRealty have compiled a great list of why millionaires and investors alike should buy real estate with bitcoin and that too, in Dubai.
Why should Millionaires/Investors buy Dubai property with Crypto Currency?
Prevention of fraud
We have said it before, we will say that again. The biggest reason and advantage to buy Dubai property with crypto currency is prevention of fraud. Everyone wants a guarantee of their asset and money security and that is what crypto currency provides seamlessly, because it is its nature. Therefore, our advice to global investors is to buy Dubai property with crypto currency as there will be a strong guard against fraud with your certifiable digital id. This digital id is used for mortgage payments, deed transfer and other financial transactions.
Tokenization
The tokens of bitcoins and other crypto currencies hugely benefit all the global investors in terms of buying real estate with bitcoins. Tokenization is known as the process of converting physical and non-physical assets in to digital tokens on a block chain. Here is an example of how tokenization takes place in a blockchain.
How this process will help real estate investors/millionaires in buying a property in Dubai? It brings out a huge reduction in real estate fees as the investors have the option of buying and selling real estate tokens. This proves to be highly beneficial for them as it is similar to the workings of stock market.
The Decentralization Clause
Adding more to the fraud prevention point, the decentralization clause comes with unmatchable benefits in this regard. It ensures safety of the assets and money by not being controlled by any financial or government institutions.  The information is purely transparent and is checkable, verifiable and instantly available to both the buyers and sellers. Furthermore, it saves the investors from extra fees which come as a result of the intervention of several institutions. Therefore, buying Dubai property with bitcoin is easier and beneficial at present times.
Peer-to-peer Technology advantage
As discussed above, Bitcoin is the first one to come up with peer-to-peer technology. This means that investing in bitcoins or any other crypto currency will now involve the direct interaction of buyer and the seller. No interference of third parties will be there to create unnecessary hassles. The very core of technology facilitates instant settlements and payments. The whole process takes place in blockchain and the results in the form of instant ownership and settlements.
An alternative to national fiat money
Bitcoin or any other crypto currency for that matter acts as a great alternative to national fiat money. This stands one of the vital and primary reasons for the exceptional growth of crypto currencies. In terms of buying Dubai property for sale with bitcoin, its exchange rate against fiat money potentially attracts global investors and buyers/sellers alike. Also, real estate agencies dealing in crypto currencies like CryptoForRealty, come up with options like converting bitcoins into fiat money at the buyer's convenience. Therefore, our advice is to invest in real estate with bitcoins because no matter how risky it is, its decentralized nature and chances of becoming the future of currency is guaranteed and undeniable.
Therefore, start your next property venture in Dubai today with CyptoForRealty. We have unsolicited advice for our clients who wisih to invest in Dubai's property with crypto currency. Through our guidance and assistance, your investment portfolio is sure to see diversity and growth.